Cutting edge spinal interventions.
Your lumbar solutions.
01
Motion preserving solutions
Artificial Disc Replacement
(disc arthroplasty)
1-level-ADR* – monosegmental
2-level-ADR* – bisegmental
3-level-ADR* – trisegmental
4-level-ADR* – quadruple segmental
Posterior interventions
02
Combining motion preserving & fusion
Hybrid techniques
03
Innovative least invasive techniques
Fusion techniques
Decide with confidence.
5 questions you should ask.
Can I expect complete mobility again?
What pain level should I expect after surgery?
Am I a candidate for the M6 disc?
Have the implants been extensively tested and researched?
How satisfied are your patients with their spine solution?
Regaining complete mobility is always the goal. The repair of the diseased spinal segments often results in an even better mobility. Patients with an indication for (even complex) motion preserving lumbar solutions generally return to a fully active lifestyle again. This includes strenuous professional or leisure time activities without restrictions.
Pain is subjective and individually different. There are basically three post-surgical stages: The immediate post op pain management may include epidural catheter, opiates, narcotics, and anti-inflammatory medication. During rehabilitation, the pain management needs to be adjusted according to the individual demand. During the third stage pain medication will be gradually tapered off. The ultimate goal is a life without pain medication. When this is achieved is also individually different and can be expected after 2 weeks to 6 months.
When radiologic findings and symptoms correlate and conservative therapies have only resulted in more frustration we may advise for a surgical solution. The ONZ team of specialists offer a wide range of surgeries with very high success rates. However, not all implant types come into question. Understanding how they may differ and which one is applicable for your anatomy is important and something to discuss with your senior surgeon.
About M6-L
In Germany, all medical devices (which includes spinal implants) must have undergone extensive scientific evaluation and have a proven track record. Using nonfusion technology, Germany has a long tradition of over 25 years. We only use surgical techniques that have been approved by the German authorities and provide an advantage to other methods.
It is your body, and you owe it to yourself to know all you can about what is involved before you decide if a surgical procedure is right for you. Seeing actual results in real patients may help you in your decision process. You should see a red flag when testimonials date back quite some time. Development in spine surgery is progressing rapidly – the surgeon you trust with your treatment should be experienced as well as familiar with state-of-the-art technology.
More Questions?
Talk with an expert. Start your evaluation process now.
get in contact
Cervical motion preserving technology. Alternatives to spinal fusion.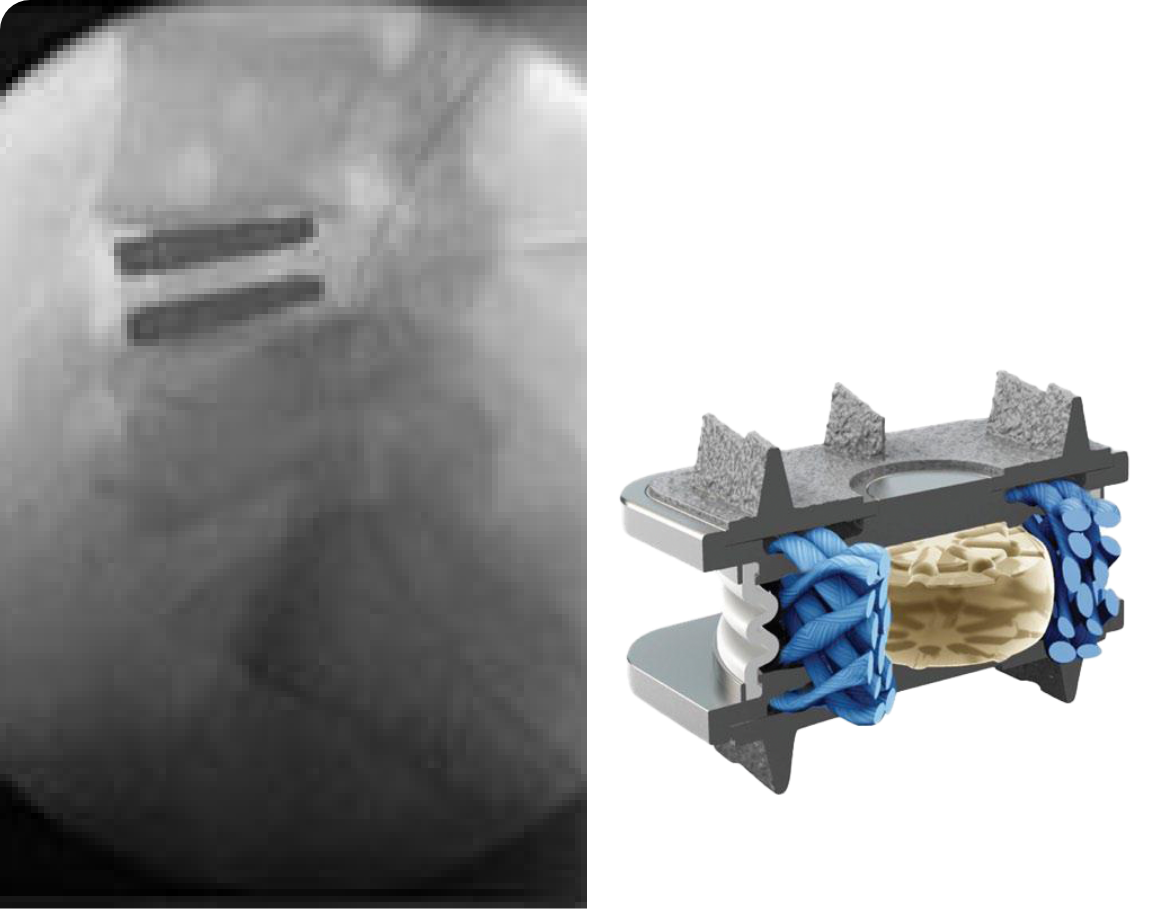 Implant Type M6-L
M6 disc replacement L4/5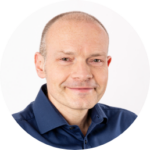 ONZ neurosurgeon Dr. Thomas Bierstedt about the M6-L.
According to our experience the clinical outcome with the M6 is superior to other implant types of previous implant generations. The M6 is designed to mimic a disc's natural motion in a superior quality. Its features like restricted flexion and extension plus shock absorption (!) are significantly less stressful for facet joints and adjacent levels. Implant subsidence has dramatically decreased with the M6 compared to previous implant types like semi-constrained or ball-and-socket devices.
Post-surgical recuperation is shorter, patient satisfaction is higher.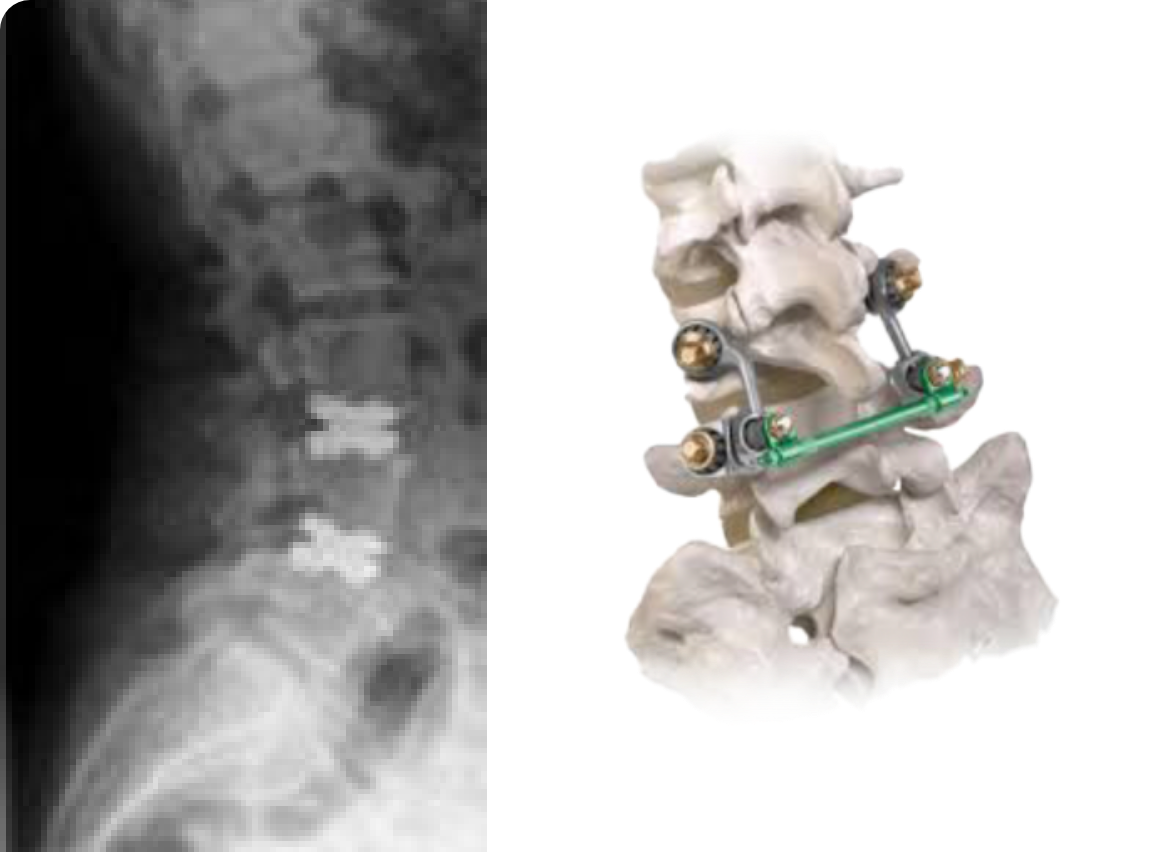 Implant type Triumph Lumbar Disc
Left: Implanted Triumph discs at L3/4 and L4/5
Right: Additional facet joint replacement with Acadia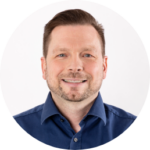 ONZ neurosurgeon Dr. Bernd Illerhaus about the Triumph.
The Triumph artificial disc is a motion preserving posterior alternative for higher lumbar levels. Thus we can provide an excellent alternative to fusion in patients with degenerative disc disease (DDD) at L1-S1 and who are uneligible for an anterior approach due to previous abdominal surgeries, vascular diseases, and higher lumbar levels.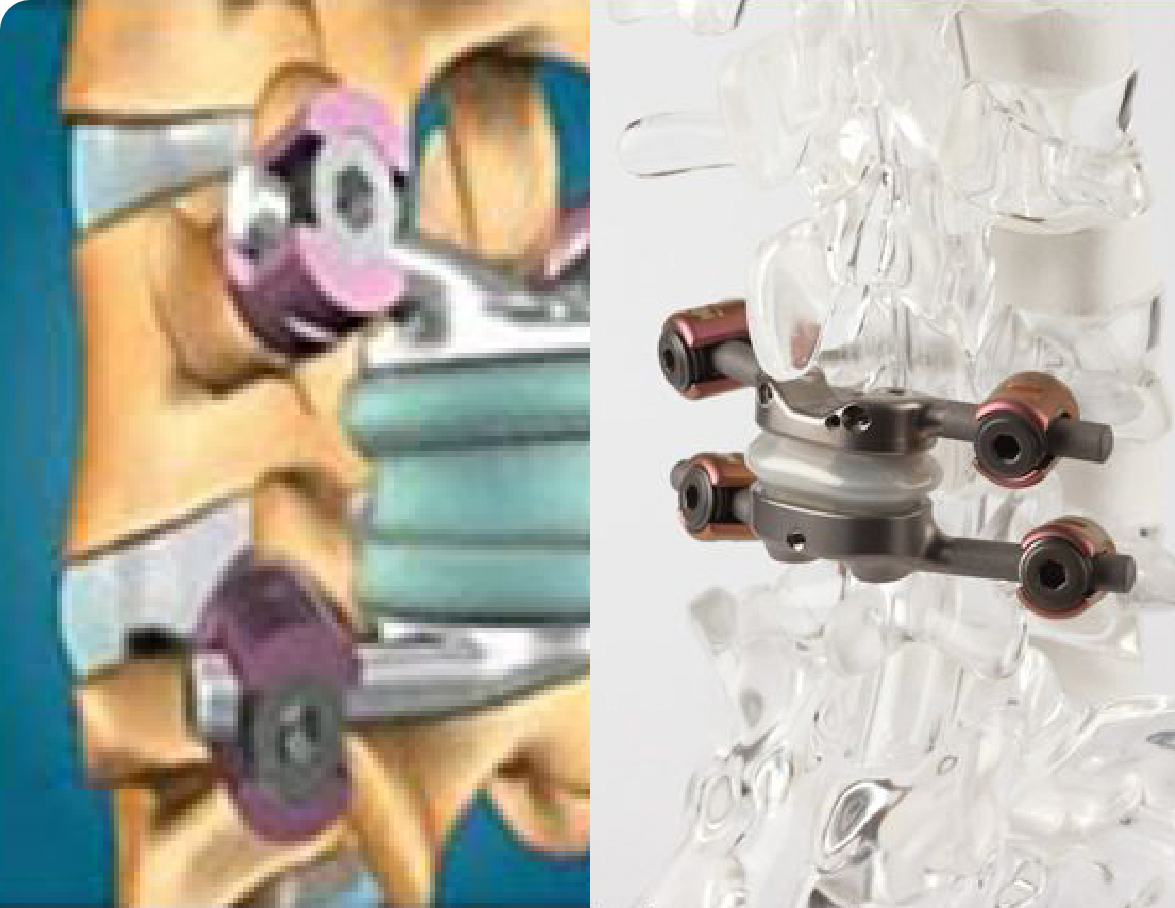 Implant type TOPS™
TOPS™ at L4/5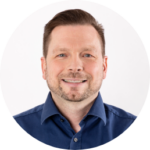 ONZ neurosurgeon Dr. Bernd Illerhaus about TOPS™.
Most people suffering from moderate to severe lumbar spinal stenosis (with or without spondylolisthesis) are being treated today with spinal fusion.
The TOPS™ System is an alternative to fusion surgery for patients suffering from moderate to severe lumbar spinal stenosis and/or spondylolisthesis.
The TOPS™ System is a mechanical device implanted by a posterior surgical approach which allows axial rotation, lateral bending, extension, and flexion.